Curt Recla Moonlight Golf Tournament - Sept 2018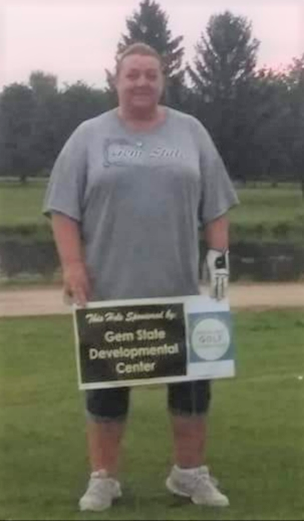 The Boise AdVenture program held the 21st annual Curt Recla Moonlight golf tournament at Warm Spring Golf Course on September 7th, 2018. Teams of 4 played a best ball tournament for 9 holes, then took a break to dinner. After dinner and after dusk, they broke out the glow-in-the-dark golf balls and players adorned themselves with neon glow sticks. Gem State Developmental Center was proud to sponsor one hole as part of the fundraiser for the adaptive recreation program, as well as having a team play to further contribute to the cause.
GSDC Clinical Director, Lori Jo Poole, Jose Valezquez, Leslie Jacobs and Mark Ciccarello had a great time for a great cause. Golfing in the dark with glow balls is definitely a challenge and we look forward to participating again!
Autism Walk - April 2018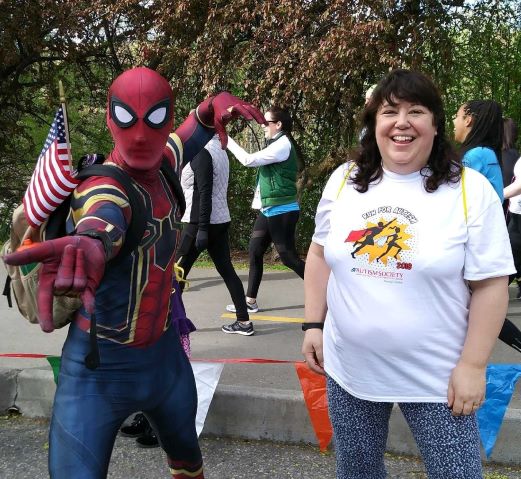 This is the fifth year Charlie and I have participated in this event. I have a nephew with Autism and feel it is a program that is close to my heart and a worthy cause to support. I am proud to represent Gem State as it supports people with special needs and encourages staff to participate in the community by serving all we can. It was a cool morning that made the walk pleasant. There were many teams showing support for their family member with autism, and superheroes to encourage the walkers on their way, making it all the more enjoyable. There were booths giving away free products as they advertised their services. At the end of the walk there was a drawing for prizes. All in all it was a fun morning and a positive experience. ~ Charlotte
This year the Run for Autism family fun walk was held at Julia Davis Park in Downtown Boise. It was great seeing all the children and adults with autism, alongside their families and providers supporting such a nice cause! They had multiple booths and vendors for people to browse and enjoy while waiting for the event to begin. The race couldn't have been anymore blessed by gorgeous spring weather. While walking on the greenbelt in the warm sunshine, participants enjoyed walking alongside the Boise River, saying hello to the giraffes looking over the wall at the zoo and reading the many inspirational quotes that were alongside the walking path put there to support this wonderful event! ~ Victoria
Autism Walk - April 2017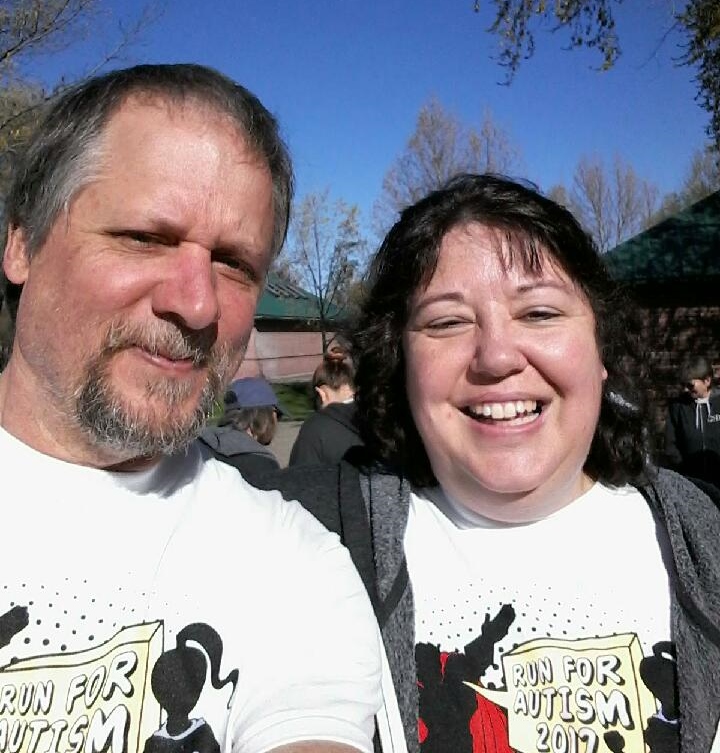 Gem State Developmental Center has once again sponsored the annual autism walk. The weather was nice and everyone appeared to have a good time. Charlotte Dringle, Linda Hagen, Donna York, Anna Crane, Kathleen George, Victoria Pyle along with their familes were able to enjoy the fun and support a very important cause. There were booths, food and t-shirts that made the whole event enjoyable along with a raffle at the end of the walk. We look forward to more fun next year!
Cabin Fever Reliever - Feburary 2017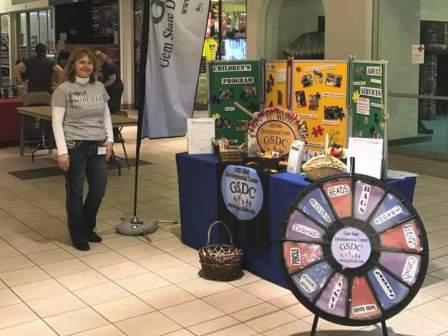 On Saturday, February 4th, we participated in the Cabin Fever Reliever event at the Karcher Mall. We were excited to have the opportunity to promote GSDC in the community. There were many children and adults attracted to our table, interested in taking a turn at the spinning wheel for a chance to win a prize and to see what we were promoting. It was a very fun and enjoyable experience that we were glad to be involved in and we hope to be a part of more of these events in the future.
Community Block Party - Sept 2016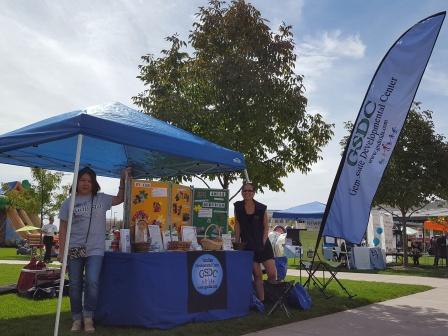 GSDC joined the fun at the Meridian Community Block Party at Kleiner Park on Saturday 9/17. It was a wonderful turn out and stayed busy the whole day. There were lots of booths to visit, fun activities for the children and yummy food vendor. We've added a new flag and table runner to our booth, which will hopefully make it easier to find us at these great events. We had lots of fun and can't wait to participate again next year!
Groove Coffee Partnership - June 2016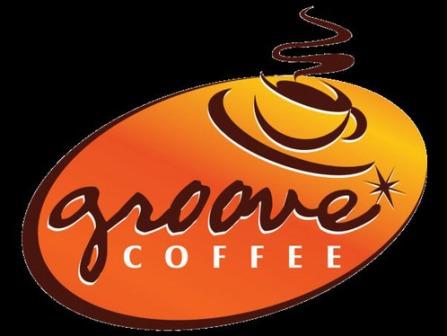 Gem State Developmental Center has partnered with Groove Café in Meridian, located at
1800 N Locust Grove Rd, Meridian, ID 83646
. It is open from 7am-7pm, Monday-Saturday, and has a relaxed indoor area and a convenient drive-thru. When you stop in for your coffee, pick up one of our brochures or current newsletter. Don't forget to check your cup for a GSDC sticker, if you get a
sticker
that says your drink is free, then it's on us!
Autism Walk - April 2016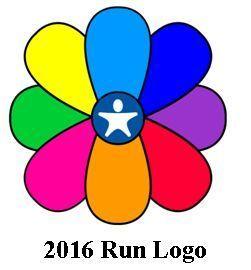 Gem State Developmental Center sponsored the 2016 Treasure Valley Autism Walk and Run again this year. Anna Crane, Clinical Director of Children Services, and Jamie White, Developmental Specialist II/Habilitative Interventionist, took part in the the walk with other GSDC families and employees. They enjoyed walking alongiside and striking up conversation with new and familiar faces. This is such a great event that we're looking forward to next year and hope you can join us!
Community Block Party - Sept 2015

"Providing Exceptional Service for Extraordinary People".
The 6th Annual Community Block Party at Julius M. Kleiner Memorial Park on Saturday 9/19/15 provided Gem State Developmental Center the perfect opportunity to promote our company and services in a fun, family-oriented setting. Our booth allowed parents and adults to get to know more about GSDC and how we serve the community with our programs. And the kids couldn't get enough of the freebie stuff, of course. Our staff spent the day being a part of the Meridian community and sharing personal stories with others of what makes GSDC so 'exceptional'.
We look forward to being a sponsor next year!
Ride for Autism - Sept 2014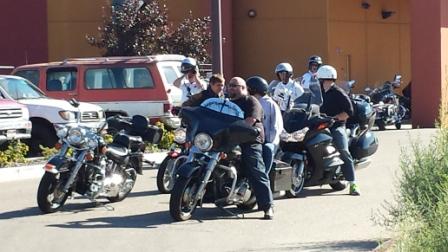 Gem State Developmental Center was proud to participate in the annual "Ride for Autism" sponsored by the Treasure Valley Autism Society and High Desert Harley Davidson. Nearly 200 riders took off from the High Desert Harley Davidson store at 10am in awesome fashion. A police escort was provided by Meridian City police on motorcycles and the ride was led by 2 adult men with autism. The riders had a beautiful trip to Marsing and stopped for lunch. After the ride was over, raffle prizes were announced, the band started playing and burgers were flying back at the Harley store in Meridian. Funds raised from the ride registration and raffle prizes will help the Treasure Valley Autism Society with increasing awareness and education of autism spectrum disorders.
Autism Walk - April 2014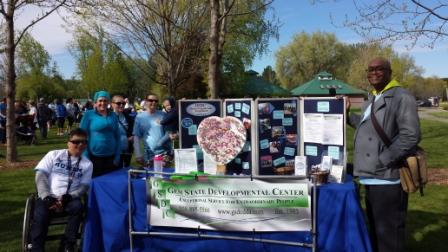 Gem State Developmental Center was one of the proud sponsors for the Autism Society of the Treasure Valley 2014 Autism Walk and Run. It was a bright, beautiful and brisk morning for a walk or a run. Brooke Allen, Intern; Lilibeth de la Pena, Developmental Specialist II; Anna Crane, Clinical Supervisor; Susan Hill, LSW and Meghan Barker, the Habilitative Interventionist participated in the walk with other GSDC families and staff. Meghan says "it was a lot of fun to race for a group of people that I love to work with and help build and practice skills to help them be successful." She also finished in the top 10 of the women for the race. Other staff had a lot of fun talking to kids and families that came to the Gem State booth for prizes and treats.
We look forward to being a sponsor next year!
Buddy Walk - Oct 2013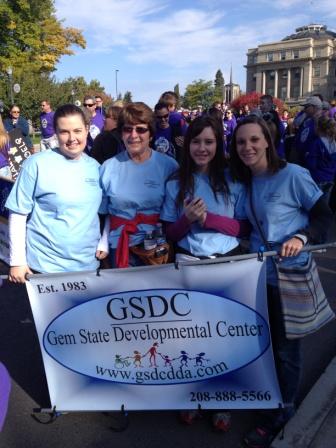 Recently, GSDC participated in the Buddy Walk to support the Down Syndrome Association. It was a one mile walk from the Capitol building to Julia Davis Park. Everyone who participated got a cool t-shirt and a lunch voucher. We had about ten staff involved and all had a blast! We marched with our banner and some of our clients who were stoked to be a part of the event. Upon arriving at the finish line there were games and entertainment set up for all of the participants. Pizza with fruit and cookies were served! It was a great time and a wonderful way to celebrate all of our friends that have Down Syndrome!
Cable One Movie Night - Aug 2013

This summer GSDC was one of the sponsors of Cable One's Movie Night in the Park. The weather was perfect and the people were streaming in so that they could watch Madagascar 3. On their way to get a great spot they stopped at our booth for some face painting and a chance to win some prizes! We handed out all sorts of fun things like candy, fans, frisbees, yo-yos and chip clips! All of our staff had a great time helping this little party come alive and mingling with people from our community. Many of our participants and their families came for this cool event too! All in all, it was a great night!